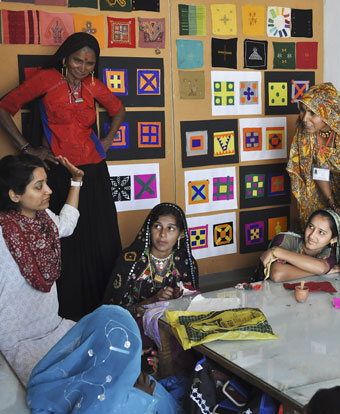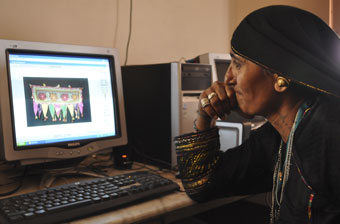 KALA RAKSHA VIDHYALAYA:
AN INSTITUTION OF DESIGN FOR TRADITIONAL ARTISANS

Kala Raksha Vidhyalaya is an initiative of Kala Raksha Trust. In its second decade, Kala Raksha sought to address India's most pressing need: Education. In October 2005, the Trust launched this institution, whose environment, curriculum and methodology are designed for traditional artisans, as a new approach to the rejuvenation of traditional arts.

Concept, Rationale and Structure
Kala Raksha Vidhyalaya (KRV) evolved from years of design development based in the Kala Raksha Museum. KRV is an educational institution open to working artisans of Kutch, conservatively estimated at 50,000. It aims to provide knowledge and skills directly relevant to the artisan's traditional art to enable market appropriate innovation, while honouring and strengthening the tradition.

As working artisans can rarely leave their homes and profession for long periods, the course is a series of modular classes conducted over one year in a local residential setting, using the vernacular language. The institute focuses on establishing long lasting market links. Final juries comprise experts in craft markets. E-portfolios of graduates on this site link alumni directly to world markets.

Design Instruction and Institutional Links
Kala Raksha has well established links with premier Indian design institutions, including the National Institution of Design (NID), the National Institute of Fashion Technology (NIFT), Srishti School of Art, Design and Technology, and the Indian Institute of Crafts & Design (IICD). Faculty from the Fashion Institute of Technology, NY, and the Rhode Island School of Design helped develop the basic curriculum for KRV.

KRV is situated on 8 acres in Mundra Taluka, a rural setting near the Gulf of Kutch. The campus, including craft studios and a Computer Aided Design Center, was designed using traditional, recycled elements by Hemen Sanghvi.
Kala Raksha Vidhyalaya Advisory Board Members
Subrata Bhowmick, Laljibhai Vankar, Ali Mohmed Osman, Abdula Sumar, Qasimbhai Khatri
Visit our websites - Kala Raksha and Kala Raksha Museum