Namaben comes from the village Nani Virani, but grew up in her maternal grandmother's village Visya. She did not attend school, though she later attended Kala Raksha's basic education classes. She learned embroidery from her grandmother at age 14. Namaben is a founder member of Kala Raksha's Vandh group. She started with sampling of bakhiya and chain stitch kurtas for Ritu Kumar. Today she is a member of both the Wages Committee and the Design Committee. She has attended design workshops taught by Nita Thakore and Laurance from France. Namaben's narrative piece on the earthquake of 2001 was exhibited in Australia at the Resurgence Exhibition.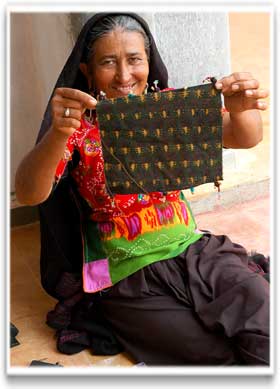 At Kala Raksha Vidhayala, Namaben was offered a handsome price for a sample she made in class. "I always try to do my best in sampling," she says. She believes that if artisans do good work, then the work will continue. Embroidery must remain viable, Namaben says. She has suggested opening a shop at the Vidhyalaya.
After graduating, Namaben has served as a mentor at Kala Raksha Vidhyalaya. In 2010 she was a design intern at Kala Raksha funded by COMO Foundation.