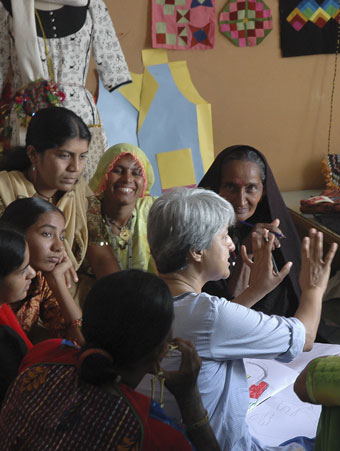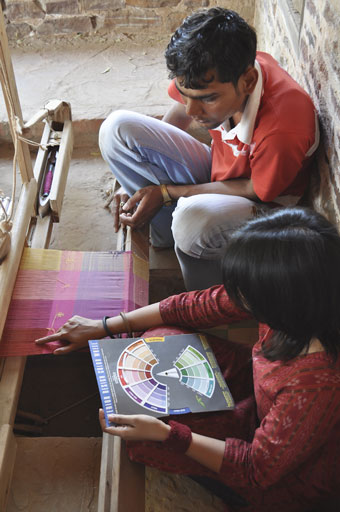 EDUCATION

Students
The only pre-requisites for KRV students are that they must be working traditional artisans. Male and female artisans attend courses separately, conforming to social norms. We have learned to appreciate and support the courage of women who participate in the KRV course. The pressure against women's education is great.

Curriculum
Kala Raksha Vidhyalaya's curriculum is continually revised to address the needs of both artisans and market. The year long course now has six intensive two week sessions: 1. Colour, 2. Basic Design, 3. Market Orientation, 4. Concept and Communication, 5. Finishing and Collection Development, 6. Presentation. Together these form a comprehensive process in developing tradition-based products for contemporary markets. Between sessions, the students implement classroom learning in their respective crafts.

Curriculum innovations include meeting with craft consumers in Ahmedabad, developing a language of visual symbols for analysis, mock juries for artisans' relatives, and an exchange program with urban design students for product development. The urban students are engaged not to give designs to KRV students, but to be their clients. The result is good products, and new perceptions in roles and abilities.

Faculty and Resources
Visiting Faculty are design education professionals from India and abroad. Permanent Faculty hired from KRV alumni and Kala Raksha staff, are well qualified to bridge artisan and Faculty understanding. KRV graduates also serve as class mentors and guides in homework assignments. Course content is presented in classroom theory and studios practice. Students and Visiting Faculty reside together on the campus, further extending learning. Students and faculty access Kala Raksha's key resources: Master Artisan Advisors, the natural surroundings, and the Kala Raksha Museum. Through the course, the students learn to critique and question. Elders and youth learn from each other, and faculty, jury and visitors learn to appreciate the tremendous capability of artisan students.

Evaluation
Each student works toward creating a final collection, which is juried by experts in craft. The Convocation Mela, a much anticipated celebration, sees over 6,000 people visiting the campus. The annual Convocation fashion show educates the public to see art and artisan in new ways.

Sohel: "The importance of Kala Raksha is that it respects us as creative people. This will insure the perpetuation of our craft."

This fundamental change in awareness, self respect and confidence is cultural sustainability, which will insure the vibrancy of traditional art.

Development of Learning Materials
A unit to teach fibers and structures has been produced. To achieve KRV's vision, cultural background must be available to faculty. Material to elucidate indigenous concepts of design and aesthetics is being developed, and a bilingual dictionary of design vocabulary is planned.

KRV FILMS!
With generous funding from UNESCO and Eileen Fisher, Kala Raksha produced the film "Artisans Design!" documenting KRV's first year. A second film, "The Masters' Voices: Design in Traditional Textiles of Kutch" was completed with support from Sir Dorabji Tata Trust, Seagate and Global Giving. This series of six short films on Master Artisans, with a 45 minute summary film, presents a poignant portrayal of traditions in transition, a tribute to the creativity of the artisan.
Visit our websites - Kala Raksha and Kala Raksha Museum