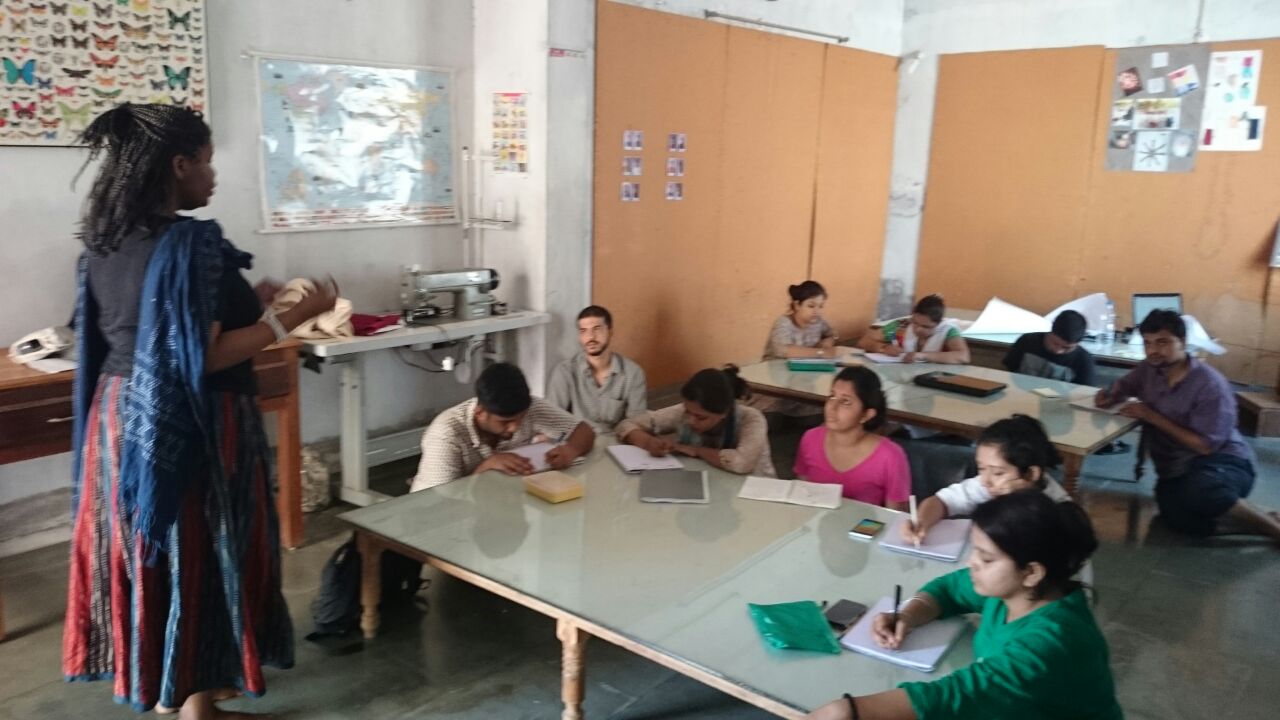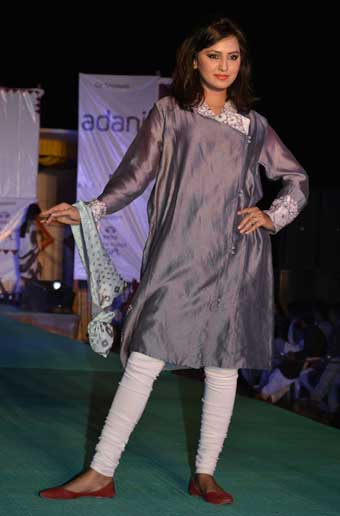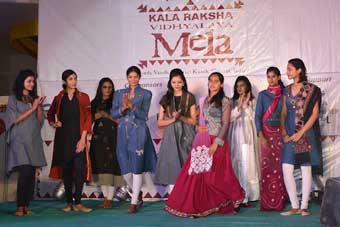 NEWS

Kala Raksha Vidhyalaya resumes on June 23, 2015

After a hiatus of a year and a half, Kala Raksha Vidhyalaya resumes back on June 23, 2015 with a year-long course for the artisans of Kutch. The course will have six intensive two week sessions for a group of male and female artisans conducted by expert faculty will bring on June 29, 2015. The course will end with a convocation ceremony and a fashion show in March 2016.

Embroidery workshop with NIFT, Rae Bareli

Kala Raksha Vidhyalaya hosted a workshop in embroidery for the students of NIFT, Rae Bareli, U.P. at the vidhyalaya in Tundha Vandh from June 10 to 18, 2015. 10 students were trained by master Rabari embroidery artisans to promote and explore the craft.

Living Blue Danthro Workshop

The Living Blue Danthro workshop took place at Kala Raksha Vidhyalaya from May 18 to 30, 2015. Sponsored by Wenner-Gren Foundation, the workshop was a collaboration between Swinburne University of Technology, China Central Academy of Fine Arts, and National Institute of Design. The focus of the workshop was to explore the cultural values associated with the production and use of natural dyes in Indigenous Australia, China and India. The workshop was led by Elizabeth (Dori) Tunstall, Associate Professor of Design Anthropology, Sakthivel V, Coordinator Dyeing Studio, NID and Shilpa Das, Director of Fellowship Programs.

KRV SHINES ONCE AGAIN AT THE EIGHTH ANNUAL CONVOCATION MELA!
22-24 NOVEMBER

KRV completed its eighth year in November, marked by the gala annual Convocation Mela. This year's KRV Convocation Mela, generously sponsored by Adani Foundation, Bestseller Fund, and CGPL-Tata Power, began with a final jury conducted by experts in craft and design, including Radhi Parekh- founder of Artisans Gallery, Subrata Bhowmick- internationally renowned designer, Abhay Mangaldas, Founder and CEO of House of MG, and Shilpa Sharma, co-founder of the online high end design retail portal Jaypore.

The jury culminated in the fashion show we await every year, choreographed by Utsav Dholakia, compered by Shweta Dhariwal, and styled by Sanjay Guria. This year's fashion show was inaugurated by our Special Guest, Founder and Director of Mango Tree, and producer of Kala Raksha Vidhyalaya's debut in Mumbai, Anjana Somany.

Current graduates presented collections of contemporary styled traditions, ranging from the home furnishing to resort wear. The collections were designed in collaboration with students from M.S. University, Baroda. As ever, our KRV alumni raised the bar with their sophisticated Artisan Designs. The grand finale was a sampling of the Co-Creation Squared collection that debuted in Mumbai.

The following day, Jaya Jaitly, Founder of Dastkari Haat Samiti, Creator of Dilli Haat- and long time friend and supporter of Artisans of India, presided over the Convocation as Chief Guest Jayaji delivered the keynote speech, encouraging artisans to work collaboratively and creatively to triumph over challenges. Jury member Radhi Parekh and KRV Advisor Shyamji Vishramji delivered speeches. Graduates Sangitaben Pirabhai Bhati, and Soyabbhai Abdul Karim Khatri spoke about the importance of design education in their lives, exemplifying the confidence and poise that education builds.


Jury awards were presented. The KRV Staff were honoured.



A public Mela followed, once again drawing visitors from around the world and all over India. A number of people planned their visit to India around the KRV Mela. Artisans met and exchanged ideas. Visitors purchased all-new artisan designs. Many graduates sold their collections-- confirming that their year of design education will launch successful careers. Everyone enjoyed Kutchi folk music, food and hands-on demonstrations of weaving, printing, roghan painting and pottery.

The festivities closed with an evening of traditional music and dance. The grand finale was our jam session sanedo, pulling together artisans, graduates and the public to celebrate the flourishing culture of Kutch, and the welcome of our newest Artisan Designers.